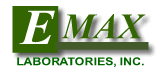 EMAX Laboratories, Inc. (EMAX) has provided comprehensive environmental laboratory services to governmental, state and local agencies since 1987. Our data has supported compliance, investigation, monitoring, and closure activities for some of the largest and most visible of projects for the Department of Defense, the Department of Energy, the EPA and multiple state and local authorities. EMAX is certified by NELAC and the Department of Defense Environmental Lab Accreditation Program (DOD ELAP).
EMAX was founded to fill a need within the environmental marketplace for a flexible, reliable, and cost-effective analytical laboratory to support site investigation and remediation projects. Our firm was there "at the beginning" providing fundamental services for the development of statewide and regional environmental compliance, enforcement, and remedial action programs.
Over the 20 years of providing lab services, EMAX has developed a nation-wide reputation for our high-quality analytical reports that meet the stringent needs of State and Federal programs. We have analyzed samples from all over the world supporting clean-up, investigation and monitoring. EMAX has supported Rapid Site Characterization and TRIAD projects and provided emergency response to contractors of the EPA.
With a staff of over seventy in the 27,000 square foot facility, EMAX has more capacity for samples than most any of the individual facilities of the large-business network labs and is one of the largest facilities on the West Coast. Our experience and stability ensure that we can fulfill the requirements of most any project.
EMAX takes pride in our well deserved reputation in providing the highest-quality analytical services in the industry. If you need a trusted source for your analytical lab needs from a small business, we invite you to consider EMAX.